The Mask with Surface proven to kill 99% of COVID virus within 10 minutes.
Virus undetectable within 30 minutes!
Tested: Protective Science +Technology.
Breathable, Washable, Comfortable.
Effective even after 20 washes
Continuously self-sanitizing
Choose the Most Effective Mask Available
Test Results
After months of searching, Coppermedics™ found Colorado State University's BioSafety laboratory, willing to test and challenge the mask surface against the actual SARS-C0V-2 Virus. Protective value was proven. The tests CSU and NARA Medical University tests were conducted according to the protocols required by ISO 18184:2019, "Textiles – Determination of anti-viral activity of textile products."
We have continuously tested the Virus Buster Mask surface, even before the pandemic against the H1N1 Flu, and other bacteria. In 2020, we had two institutions test directly against SARS-CoV-2. See our test reports:
Colorado State University
NARA Medical University
Korea Testing & Research Institute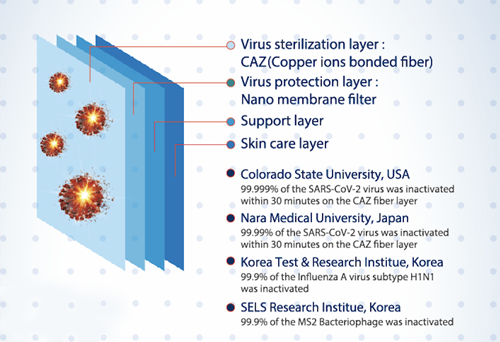 The Mask
Virus Buster face masks are light, breathable, washable, and reusable. The copper ions cannot be washed off and are chemically bonded to the polymeric fabric.
The Virus Buster face mask is comprised of 4 layers of material:
An outer antiviral layer which includes the tested and proven copper ion-bonded fiber
A virus protection layer that contains a nanomembrane filter
A support layer
An innermost skin care layer
The Folder Mask is available now, shown in the photos above, and in the first section above, labeled. A medical style mask will be available in the near future.

---
The US EPA has described the primary way the COVID 19 infection spreads by aerosols and droplets. Please take a moment to read these several paragraphs before your leave our website:
About Coppermedics
Coppermedics™ is an association of people working for Copper to play a renewed and powerful role improving worldwide public health and well-being. Copper, intrinsically is capable of protecting humans from unhealthy viruses, bacteria, microbes, and fungus.
We work to amplify public understanding of Copper – the metal – and its ability to provide antibacterial and antimicrobial protection for public health needs. Copper's intrinsic capability to disable and kill bacteria and other undesirable microbes has been widely tested and confirmed. Coppermedics™ is engaged in activities to promote the widespread application of Copper and Copper-derived materials and products for global public health benefit.



couple-wearing-masks-on-beach
slider-img-fwv9n34p85a3pjy
woman-wearing-virus-buster-mask
young-couple-wearing-masks
Protective
Tested and proven to deactivate and kill the SARS-CoV-2 Virus.

Comfortable
Everyone says it is comfortable, and easily breathable.
Reusable
Self-Sanitizing, sturdy, effective for weeks, durable.



Washable
Mask surface tested & proven to retain power & strength to deactivate & kill virus after 20 washes.
Washing Instructions for Virus Buster Mask
Important: The mask surface is self-sanitizing. You don't need to wash it unless the surface is soiled or dirty.
To Wash – Mix just a couple of drops of dish-washing liquid into warm water. Submerge the mask and swish the water around gently for a minute or two. If the mask is heavily soiled, let it sit for 15 – 20 minutes.
To Rinse – Empty the container, add clean warm water, swish gently and let sit for a few minutes. Drain and repeat. Do not wring out the mask!!
To Dry – simply hang by the ear loop for a few hours or overnight to dry.
Gentle washing in this way effectively restores freshness to the mask. Because the mask is self-sanitizing, only wash when surface is visibly dirty. This process can be repeated many times without affecting the mask's antiviral properties.